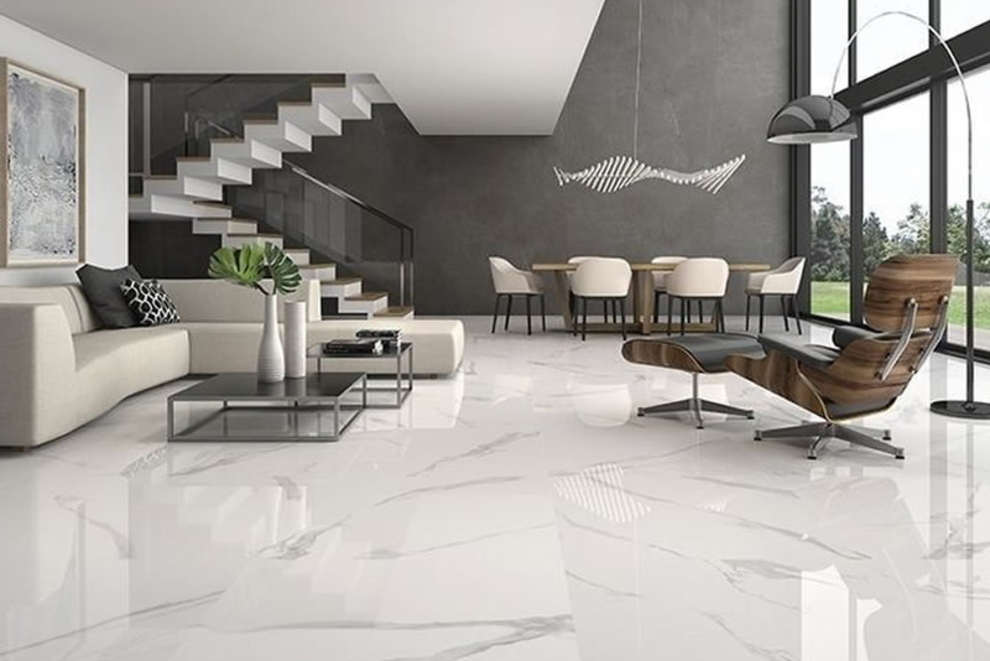 Carrara white marble, destination of exclusive residences
Carrara marble, from block to work of art and furniture for luxurious properties
In construction, marble is the noble material par excellence, from traditional to modern, marble is a limestone rock that knows how to embrace styles like no other, so the choice of marble, inside or outside your prestigious property, it will give a touch that will distinguish it among a thousand making it richer and more luxurious, becoming in fact the material mainly used for fine finishes in luxury villas, such as those present in the Broker Immobiliare Exclusive Real Estate Portfolio.
With its unique features and radiance, marble enchanted the ancient Greeks and Romans, and even the ancient peoples of Mesopotamia. Despite its ancient history, marble has not lost its charm, becoming today one of the most popular and used materials for furnishing luxury properties and important public buildings.
CARRARA MARBLE: THE WHITE MARBLE PAR EXCELLENCE
Carrara white marble is one of the best known and most appreciated marbles and the quarries of the Apuan Alps of Carrara are among the oldest in the world, a place where entire generations of quarrymen have grown up and have handed down this millenary art to the present day. The element that distinguishes this stone is its white color, with light gray or black veins, and for this very reason it was considered one of the purest and most perfect. Even today there are many works and monuments made entirely with this material: among the artists who have used white Carrara marble, Michelangelo is certainly among the best known. It is precisely from the blocks obtained in Carrara that La Pietà, one of the most famous masterpieces of all time, came to life.
White Carrara marble is characterized by a pearly white background, slightly cloudy. It has intrusions and grayish spots more or less present and evident and greyish variegated veins, millimetric or centimeter. Its shaded gray veins cross it in a discontinuous way and within the material there are mineral elements similar to real crystals that give it an appearance of a natural work of art.
Marble is formed through a metamorphic process from sedimentary rocks, such as limestone or dolomite, which causes a complete recrystallization of the calcium carbonate of which they are mainly composed. The color of the marble depends on the presence of mineral impurities (clay, silt, sand, iron oxides, flint nodules), existing in granules or layers within the original sedimentary rock.
White marbles are the result of the metamorphosis of limestone free from impurities.
Based on the color of the substrate, two types are distinguished: Bianco Carrara C (lighter background) and Bianco Carrara CD (darker background).
The variation of the background color and the veins gave rise in the Carrara area to other types of white marble, all materials with spectacular qualities. Let's go and discover them.
STATUARIO
The Statuario is characterized by an ice white background and an important gray vein. The splendor of this white makes it the absolute favorite material for sculptures, hence its name. Statuario marble is a first choice stone, present on the market in limited quantities and therefore in great demand for luxury homes and properties. Depending on the type of grain present in the stone, this marble is distinguished in Statuario Venato and Statuario Extra which differ in the thickness of the veins.
CALACATTA
Calacatta marble has a warm ivory background and gray shaded veins that can reach other different shades. Based on the color of the veins we can distinguish different types. Calacatta with veins tending to pale green takes the name of Calacatta Caldia while those tending to a strong purple give rise to Calacatta Viola. Calacatta Gold is characterized by golden veins while Calacatta Borghini has veins ranging from dove gray to gold.
STATUARIETTO
Statuarietto marble has frequent and fine gray veins that enrich its characteristic white background. The statuary is an excellent compromise that allows you to have the modern and refined look of its most famous relatives at a much more affordable price.
ARABESCATO
An elegant classic suitable for both indoors and outdoors. Arabescato marble is a very fine variety of white Carrara marble that has dark gray veins called "arabesques". There are several selections, characterized by different colors and more or less rounded movements.
The ductility of the marble makes the stone perfect also for the realization of coverings and interior elements of the house as furnishing accessories. The luxury properties present in the Exclusive Real Estate Broker's portfolio often feature processes carried out with this precious material.
Broker Immobiliare Exclusive Real Estate