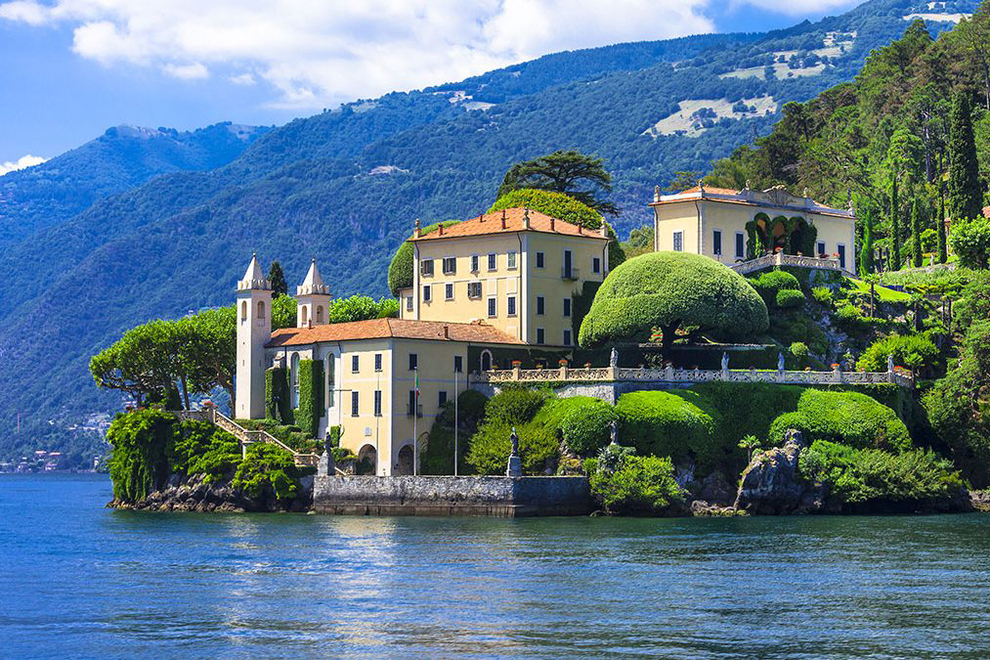 Lake Como
December 1, 2021
Broker Immobiliare
Lake Como: views, boat rides, great cuisine, and luxury villas
Luxury villas in beautiful northern Italy
Around nature and picturesque towns, Broker Immobiliare Exclusive Real Estate lists luxury villas for sale on and near Lake Como. Here, you can enjoy the view of beautiful landscapes, visit ancient churches and historic villas, have fun on a boat ride, and taste the excellent local cuisine.
Varenna lays on the eastern river of Lake Como. It offers picturesque sights such as the Passeggiata degli Innamorati – a walkway with a handrail, suspended over the water – the lanes running through the historic center, and their shops and restaurants, as well as historic churches. The Chiesa di San Giovanni Battista – whose year of construction is unknown, as there are no records, though it is thought to have been built in the 11th century – houses frescoes depicting Saint Christopher, the Adoration of the Magi, and Saint George slaying the dragon. From Varenna, the town of Bellagio is easily reachable by boat.
The residential area of the town of Bellagio il located in the northern part of the promontory dividing the two branches of Lake Como. Having boarded a ferry at Varenna's pier, you will land at the Gestione Navigazione Laghi, on Bellagio's lakefront. This town also has many picturesque lanes and panoramic spots, such as Punta Spartivento and the lakefront promenade. The mountain pass Paaso del Ghisallo not only has a breathtaking view over the lake and the surrounding mountains, it is also famous as a leg of the bicycle races Giro di Lombardia and Giro d'Italia.
From the same port where ferries from Varenna dock, you can board a ferry to Tremezzina. The latter was so named by fishers (originally Framezzo, "in the middle"), as is was the middle point of their trade, among the Pandan Plain, the Reno Valley, and Mount Crocione. Framed by mountain ranges, Mount Ossuccio is a UNESCO World Heritage Site. It is also known as the Sacred Mountain of the Blessed Virgin of Succor, and its slopes are dotted with fourteen baroque chapels. The residential areas of Tremezzina, from Ossuccio to Tremezzo, are all lakefront.
In the southern part of Tremezzina, at the end of a peninsula jutting into the lake, you will find Villa del Balbianello, built in 1787 where there once was a monastery. As well as attracting tourists with the beauty of its architecture and of its location, the villa is also famous internationally thanks to directors who have chosen it as a movie set. An iconic dialogue between Anakin and Padme from Star Wars: Episode II was shot on one of the charming terraces, while a scene from Casino Royale was shot in the picturesque garden.
Another charming villa included in the realm of international cinema is Villa Balbiano. The name is similar to Villa Balbianello as the latter was built with Villa Balbiano in mind. Villa Balbiano is in Ossuccio, and area of Tremezzina not far south of Villa del Balbianello. Villa Balbiano was chosen as set for the soon to be released House of Gucci. In the movie, the villa is the set for the home of Maurizio Gucci, son of Aldo Gucci, founder of the world famous haute-couture brand.
The several ferry services are convenient for travelling from one lakefront town to another. However, they are not the only option available. There are tour operators especially for boatrides on the lake, with the option to sail a boat yourself or, if you are no expert, to hire a skipper.
As well as beautiful landscapes and the combination of nature and culture, being a verdant area of Italy, the areas around Lake Como have a strong winemaking tradition, with the production of reds, rosés, and whites. Oil production is even more noted, produced through cold pressing. The lake itself has a lot to offer, with its several kinds of fish: lavaretus, alosa, missoltino, trout, and zander. You can enjoy delicacies comfortably seated in an excellent restaurant or take a food and wine tour.
Broker Immobiliare Exclusive Real Estate lists luxury villas for sale on and near Lake Como.
Exclusive luxury villa with swimming pool for sale, in a prime location overlooking Lake Como, Lombardy, easily accessible and only 500 meters from the lakeshore, arranged over three floors for a total of 900 sq. m. and set in a garden of about 1600 sq. m.
Historic villa with guesthouse for sale on Lake Como, Lombardy, located near the center of Varenna and a stone's throw from the lake, surrounded with a manicured garden of about 1500 sq. m. The villa is arranged over three floors above ground plus a basement and a guesthouse.
This luxury property for sale in Tremezzina is at the top of a promontory dominating Lake Como. It has been artfully renovated, it is in a one-of-a-kind location, and has a picture-perfect view on the enchanting view over the lake.
Magnificent 1000-square-meter luxury villa for sale in a splendid location overlooking Lecco's branch of Lake Como, Lombardy. Its grounds are 1.5 hectares with an absolutely unique location spanning Lecco and Bellagio.
Historic villa for sale in the lower hills between Como and Erba, near Lake Alserio. The property consists of a majestic historic home surrounded with a private park of about 1 hectare, with a panoramic view over Lake Alserio.
Broker Immobiliare Exclusive Real Estate